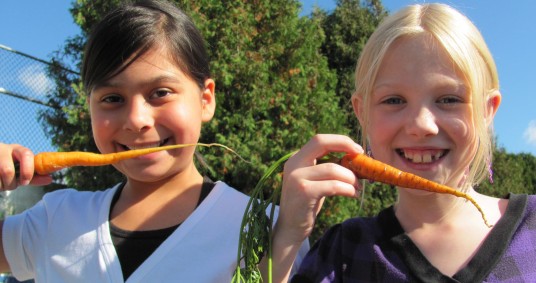 World Food Day – Family Farming: Feeding the world, caring for the earth
The October 16, 2014 World Food Day theme, "Family Farming: Feeding the world, caring for the earth" was chosen to recognize the importance of family farming and small scale farmers. It focuses world attention on the significant role of family and small scale farming to address food security and sustainable farming.
Fresh Roots Urban Farm
and the
Edible Garden Project
are small scale, urban farmers helping to inspire and empower students to become the next generation of farmers. They are transforming schoolyards into edible landscapes to create thriving neighbourhood gathering places for learning, sharing, connecting and enjoying delicious, locally produced, sustainable food. As members of the Greater Vancouver Farm to School Committee, they are key collaborators in strengthening the connections between farmers and schools.
Being the first of their kind in Canada, Fresh Roots Schoolyard Market Gardens are outdoor, hands-on learning classrooms developed in partnership with the Vancouver School Board. Not only do they enhance student learning but they also engage the community through their Good Food Markets. Visit the market at David Thompson Secondary on Tuesdays from 3-6 and at the Italian Cultural Centre from 4:30-6:30 to buy farm fresh, locally grown produce.
The Edible Garden Project is working with the North Vancouver School District to develop a schoolyard market garden and outdoor classroom at Sutherland Secondary School. You can help them by making a donation, becoming a sponsor, volunteering, or checking out their Wish List.
Small scale farming can have a significant impact on multiple levels as student, Winne Kwan from David Thompson Secondary states, "The market garden reminds me everyday that it's not all hopeless, that we can revolutionize the system to be sustainable, and we will get there through game-changing ideas like this schoolyard farm project, the urban agriculture movement, and I want to be part of creating that solution."
{Vancouver Coastal Health News – October 15, 2014]